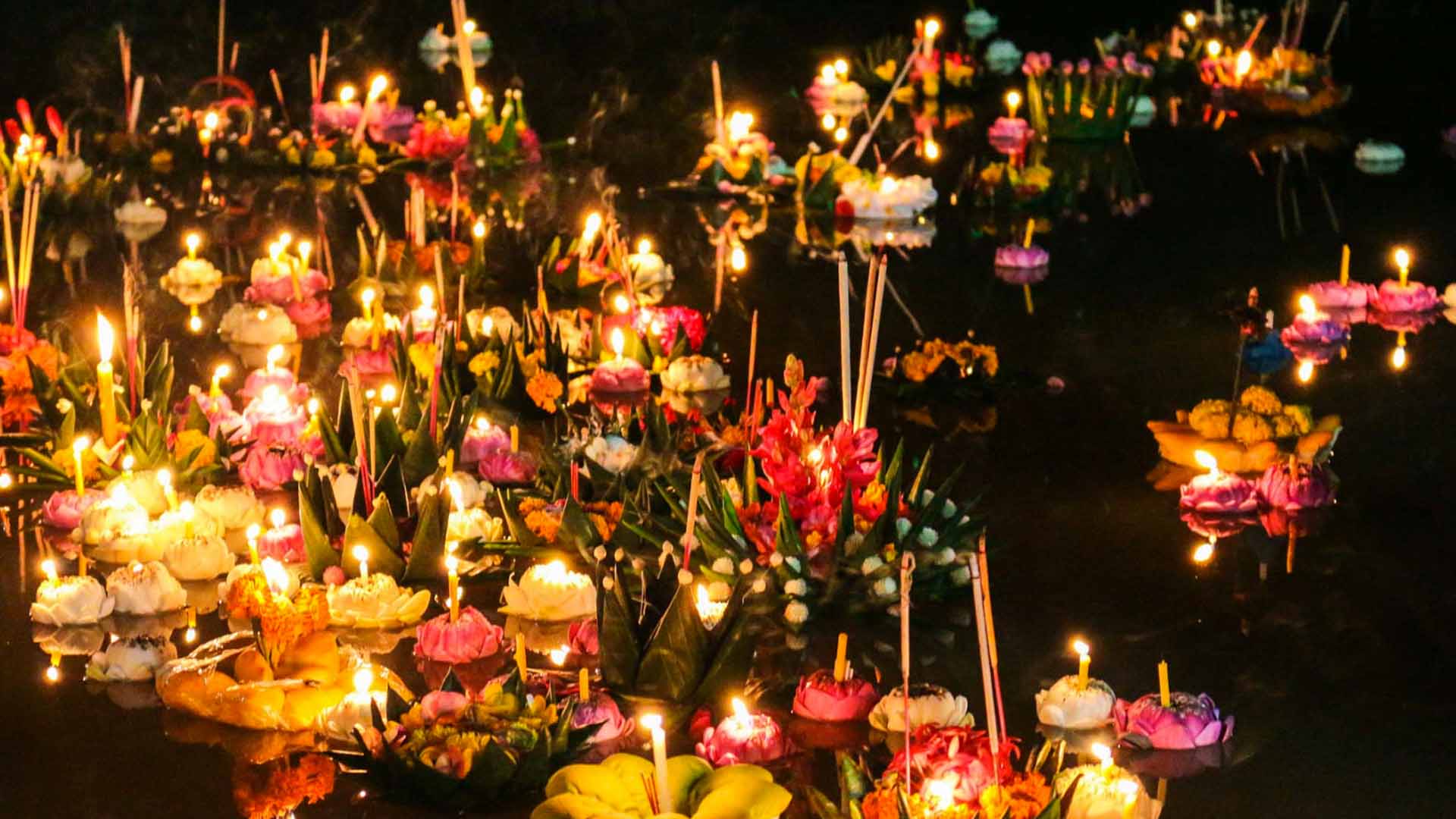 The end of the year is approaching fast and so are the opportunities to make unforgettable memories. If you're looking for an experience that could be your last hurrah, Thailand's Loy Krathong might be where you should go.
Set during the full moon of the traditional Thai calendar's 12th lunar month, Loy Krathong is a time where all of Thailand celebrates thanksgiving and looks forward to new beginnings. During Loy Krathong, Thailand's rivers, ponds, and canals get filled with lotus-shaped containers made of a banana-tree trunk piece, each containing flowers and candles. In fact, "loy" means to float while "krathong" means container.
The visual spectacle is not only a sight to behold. You can actually join the crowds in letting your own "krathong" float downstream while you make your wish. For you and the loved ones who are coming with you on this journey, this is truly an unforgettable experience of bidding the past year goodbye to welcome the new one.
While different places in Thailand have their own celebrations of Loy Krathong, perhaps the best place to be in is Chiang Mai. This is because the festival coincides with the celebration of Yee Peng, when floating night lanterns transform the night sky into a vast tapestry of lights.
Where To Go In Chiang Mai
There are a few landmarks to take note of in Chiang Mai, where you can celebrate both Loy Krathong and Yee Peng. Big temples in Chiang Mai like Suan Dok, Chiang Yuen, Chai Sri Phoom, Chai Mongkol and Jed Yod are among the places where you can get your krathong. These containers are also up for sale at the riverside markets between the Nawarat and Ratanakosin bridges.
These markets stretch all the way up to the Thae Pae Gate, which gets adorned with colorful lanterns on the days leading to the festivals. This is also where you can catch the festival's opening ceremony and other activities, including beauty contests and cultural performances. At the Nawarat and Ratanakosin bridges, you can have a glimpse of both the krathongs floating down the river while night lanterns fill the night sky.
There are up to five mass lantern release events you can also join during Loy Krathong. The biggest one is hosted by the Chiang Mai Culture Art and Design (CAD) called Chiang Mai CAD Khomloy Sky Lanterns Festival 2019. This event will take place on two nights, November 11 and 12 at the Cowboy Army Riding Club Mae Rim, 10 km north of downtown Chiang Mai. Tickets to this event are inclusive of unlimited food and drink, two lanterns and one krathong.
Another big mass lantern release event you can join will take place on November 11 at Lanna Dhutanka near Maejo University, where you can also indulge over Thai buffet. You can also celebrate Yee Peng with the Wat Doi Ti and Kruba Srivijaya monuments in the backdrop, 35km from downtown Chiang Mai. Tickets to this November 11 event are inclusive of a Thai dinner set and a lantern.
Celebrations In Bangkok And Beyond
Other landmarks in Thailand also beam with life during Loy Krathong. In Bangkok, the main celebrations are held at Asiatique. You can also visit the banks of the Wat Saket, where grand Buddhist ceremonies take place. Celebrations here usually start at sundown and culminate with elaborate fireworks displays.
Sukhothai, the birthplace of the festival, is another go-to destination for celebrating Loy Krathong. At this historic city, where celebrations can last for up to five days, you can witness a traditional Thai dance and music night show, grand processions, and traditional exhibitions of dances, plays and martial arts shows.
Since Loy Krathong and the Yee Peng festivals draw really thick crowds, it is important to take note of some tips for smoother and safer experiences. If you're joining mass lantern events, it's best to bring your own lighter and marker for writing your wishes. Be sure you arrive early at the venue to avoid fighting your way through the crowds.
If you don't want to venture outside during the celebrations, some hotels like those along the Chao Phraya River in Bangkok usually host events with dinner and fireworks. It is also important to dress modestly since these festivals are religious. White garments that cover your shoulders and knees are your best possible wardrobe choices.
Follow us on Facebook at www.facebook.com/TATPhilippines to stay tuned on announcements about the Loy Krathong and Yee Peng festivals.