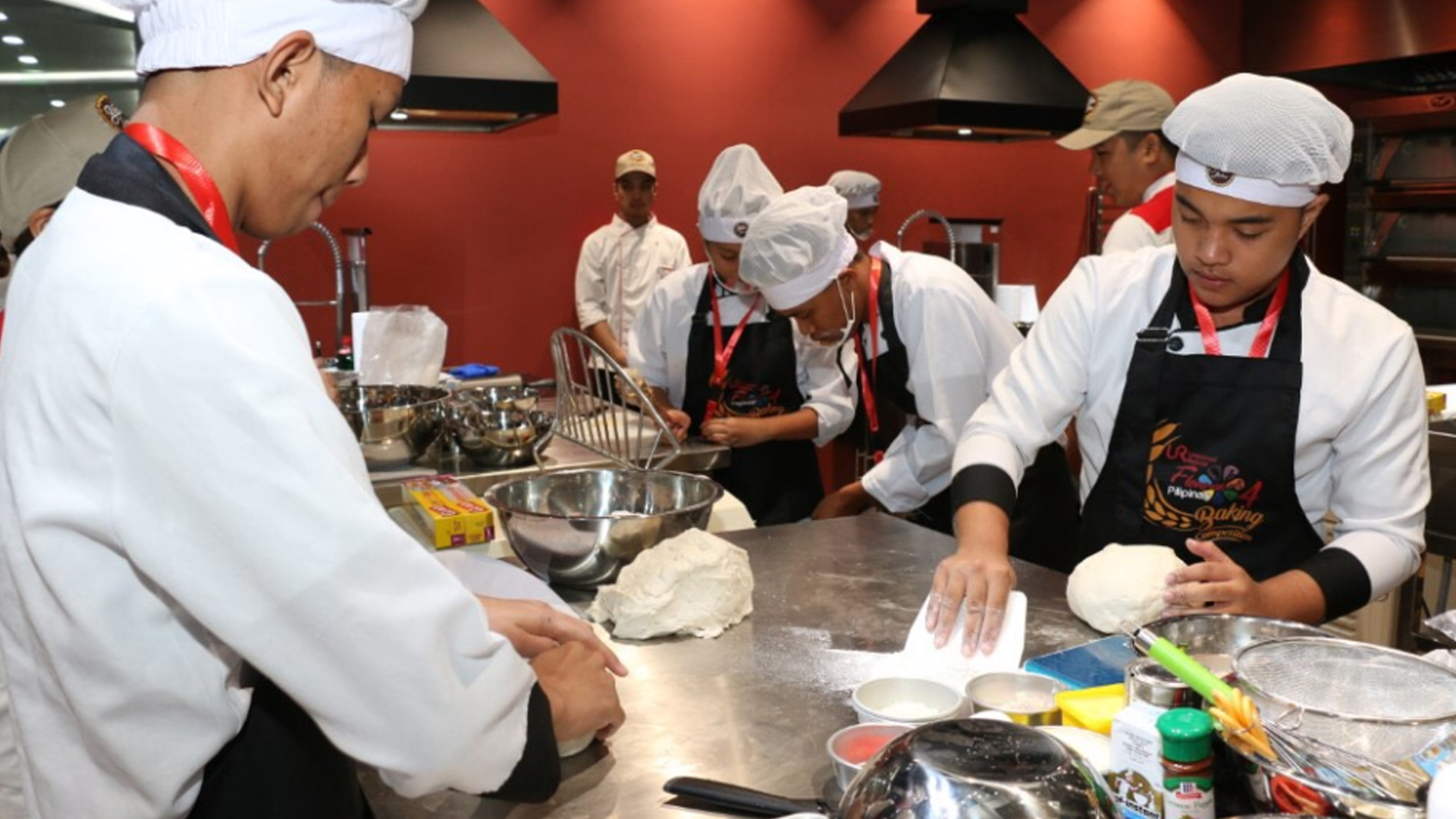 URC helps students emerge as innovative bread and pastry makers.
Parents constantly admonish their children to eat their vegetables, but who would have ever thought that one could enjoy them with merienda or dessert?
Such were the innovative ideas for breads and cakes showcased by senior high students from public schools who participated in the Flourish Pilipinas Baking Competition organized by Universal Robina Corporation (URC) Flour and Pasta Division.
The competition is part of the Flourish Pilipinas program developed by URC Flour that supports proper, standardized and professionalized development of students taking up bread and pastry making classes under the Department of Education's (DepEd) technical-vocational livelihood (TVL) track for senior high school (SHS) students.
URC Flour developed an intensive and interactive multimedia toolkit aimed at enhancing the learning experience of SHS students in bread and pastry making, and increasing their success rate not just in the classroom but in eventual jobs and entrepreneurial opportunities after graduation.
Winning Ideas
The "Macabasa" loaf with coffee glaze is the winning recipe of 18-year-old Stephanie Jane Escobido and 21-year-old Rowel Villanueva of Makati High School under the bread category. With the guidance of their teacher-coach Lian Marie Espiritu, the team came up with the unique idea of incorporating nutrient-packed vegetables into a tasty, versatile loaf of bread.
"'Macabasa' stands for the ingredients of malunggay, carrot and kalabasa (squash)," explained Espiritu. It is their idea of eating healthy while lending unique and exciting flavors to everyday, ordinary staples such as bread.
Meanwhile, under the cake category, the team of Ralph Christian Mangilit and Alaura Pabandero, both 17 years old, successfully came up with the top entry of a Sweet Potato Carrot Cake. They represent Sta. Lucia High School in Pasig City. The interesting concept was a challenge to perfect, ensuring that the flavors of the vegetables blended well enough into a sweet concoction suitable for a dessert, according to teacher-coach Angelo dela Cruz.
Brighter Futures
Most importantly, the Flourish Pilipinas Baking Competition provides opportunities for these young Filipinos to pursue their passion and hone their skills in bread and pastry making. Pabandero, for instance, has been taking up cooking classes since Grade 7. She sees a future career related to culinary arts, being influenced by other siblings who are in hotel and restaurant management as well.
Mangilit was taking up electrical-related subjects in junior high when he decided to switch to TVL to gain additional skills that can make him more well-rounded. He found a liking to bread and pastry making, and even plans to eventually put up his own business based on the knowledge and experience he has gained in SHS.
"It is stories such as these that affirm our efforts and inspire us further to carry out our commitment to nation-building through more effective learning in school," remarked URC Flour and Pasta Division sales, marketing and distribution director Naida Ebora.
"We envision a new generation of world-class Filipino bakers and cake makers who will thrive in the highly lucrative food and restaurant industries, or make it as entrepreneurs whatever their inclination may be," she added.
With continuous support and help from programs such as Flourish Pilipinas, Filipino students will definitely be able to quickly and more confidently rise to success.
The 2019 Flourish Pilipinas baking competition was supported by Masflex, Kitchen Pro, Kitchen Aide, Sonlie International, Bakersfield, RM Boxes, Treasure Life by SPVC, Oleofats, Piattos, Refresh and Great Taste.