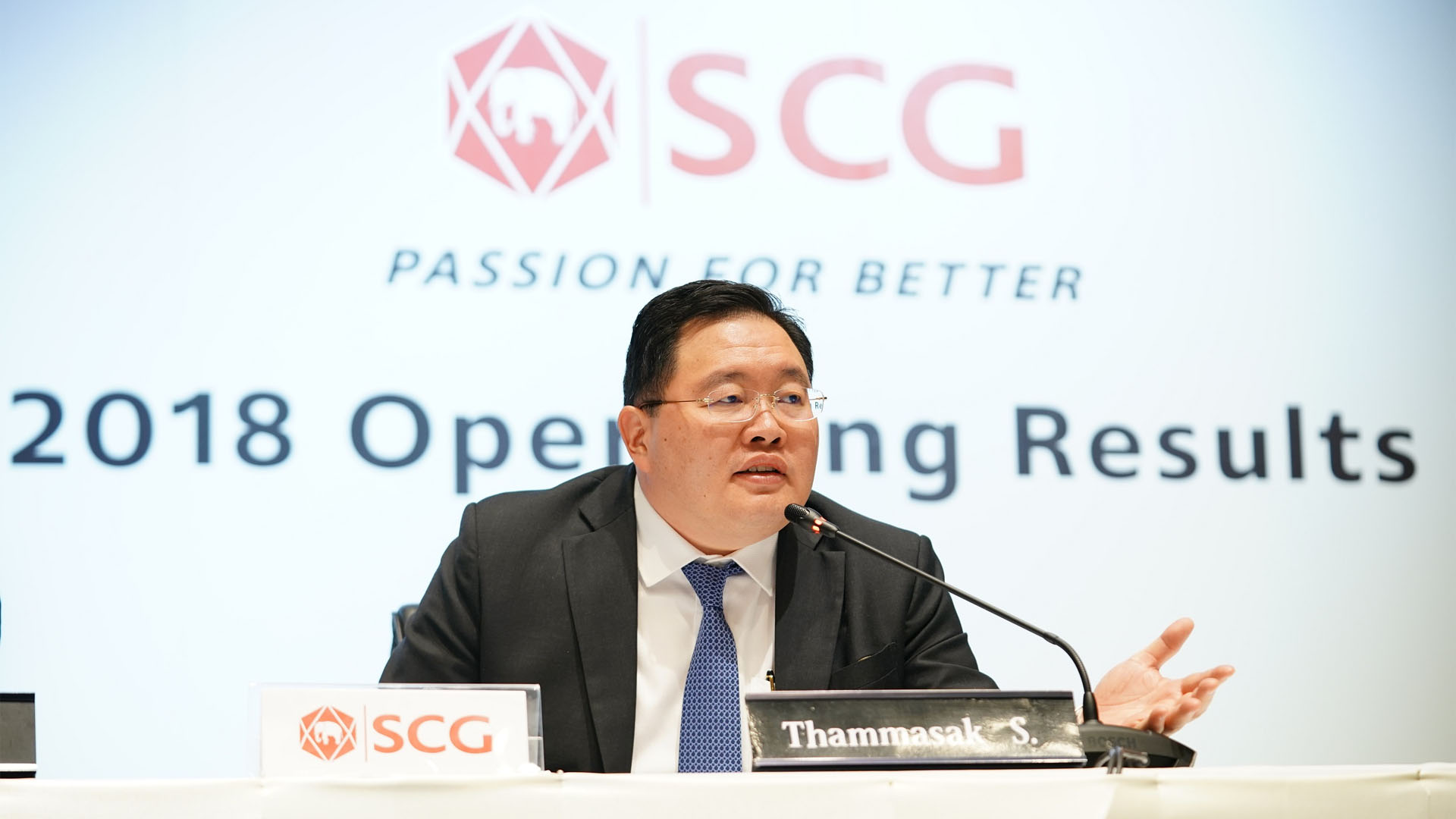 SCG's 2018 Operating Results showed consistent and robust growth in the Packaging business and favorable prospects in the Cement-Building Materials business even as its Chemical business experienced a decline in profits.
Registered revenue from sales for 2018 increased 6 percent YoY to PHP779,056 million (US$14,808 million). Profit for the year hit PHP72,865 million (US$1,385 million), a 19 percent decrease YoY amid global economic uncertainties due to trade war, volatile oil market, and a strengthening Thai baht, all of which affected the overall performance of SCG.
In 2018, SCG's revenue from sales of High Value Added Products & Services (HVA) reached PHP301,185 million (US$5,725 million), representing an increase of 5 percent YoY and accounting for 39 percent of total revenue from sales.
Across the ASEAN, Q4 2018 revenue from sales recorded 9% growth YoY at PHP48,688 million (US$916 million), 26 percent of SCG's total revenue from sales. 2018 revenue from sales rose by 11 percent YoY to hit PHP192,166 million (US$3,653 million), including sales from both local operation in each ASEAN market and imports from the Thai operations.
In the Philippines, SCG's Q4 2018 revenue from sales amounted to PHP4,247 million (US$80 million) with 2018 sales revenue reaching PHP18,537 million (US$352 million). The latter represents an increase of 26 percent YoY, derived mainly from the Packaging and Cement-Building Materials businesses.
SCG President and CEO Roongrote Rangsiyopash said, "In 2018, SCG was able to maintain stability. We were able to act promptly to cope with global economic volatility, resulting in an overall 2018 profitability ratio of 9 percent, a considerably strong figure compared to the overall industry performance. We are confident of continuous growth this 2019, if not even more successes, and have already laid out plans to boost our market presence and continue to serve our markets with quality products and services."
For 2019, SCG will continue to seek new opportunities to meet consumer needs throughout the region. The company is looking to implement new strategies and solutions aimed at elevating customer experience and delivering more innovative products.
In addition to exploring a broad range of digital technologies and creating long-term business growth, SCG will continue to expand opportunities to export innovative products and services. In addition, it will accelerate investment projects to help generate business growth in both the thriving ASEAN market and new and emerging markets such as chemical exports to the Chinese market and retail and logistics business in the region.